Where Did the Summer Go?
It's hard to believe that summer is over and schools have started another academic year. We all must focus our attention to increased commuter traffic on the roadways. Commuter traffic includes school children walking to school, waiting at school bus stops, stopped school buses and while traveling through school zones. Children are our most precious commodity, to be protected at all costs. Be diligent, aware of your surroundings by keeping your eyes moving. Have safe and enjoyable holidays!
Snow and Ice Are Coming – Is Your Car Ready?
With school back in session and finishing raking leaves; we must also turn our attention to Old Man Winter and be prepared for what he brings weather wise. The National Safety Council suggests the following checklist to prepare your car for winter:
• Checking the ignition, brakes, wiring, hoses and fan belts
• Changing and adjusting the spark plugs
• Checking the air, fuel and emission filters and PCV valve
• Inspecting the distributer or fuel injection system
• Checking the battery
• Checking the tires for air pressures, tire wear and tread depth
• Checking antifreeze level in the radiator
• Keeping large grit sand or kitty litter in your trunk to use when traction is needed
• Checking to see if the windshield wipers work and in good condition
• Headlights clean enough to allow proper visibility
• Checking the defroster, removing clutter from around the vents for better air flow
• Keeping more than a quarter tank of gas at all times
• Keeping flashlights, warm blankets readily available if you are stranded
• Keep cellular phones fully charged prior to traveling in inclement weather
Driving in Adverse Conditions
It's inevitable, snow and ice are coming. Failure to adjust to adverse conditions is a major factor in accident frequency. The adverse conditions most frequently encountered are reduced traction and reduced visibility. Both conditions require the driver to continually maintain control of their vehicle. Do you know that using your vehicle's cruise control during reduced traction conditions (snow, ice, & rain) can be hazardous to your health? It is true! The only way to stop wheels from spinning while maintaining control of the vehicle is to immediately reduce power to the wheels. An activated cruise control system applies continuous power, keeping the wheels spinning. If you experience a spin, by the time you disengage the cruise control, it may be too late – you may have already lost control. It has been shown when additional power is provided to the spinning wheel and the wheel hits dry pavement, the vehicle may be launched airborne. Safety Steve needs not tell you what happens when tires leave the road. Disengage your cruise control during inclement weather.
Here are a few facts for drivers on slick roads:
o Road surfaces covered with snow and ice are more slippery at 32 degrees Fahrenheit that at 0 degrees Fahrenheit
o Even a dusting of snow or light drizzle can make roads treacherous
o Black ice is particularly treacherous. It occurs at temperatures between 40 degrees Fahrenheit and 25 degrees Fahrenheit and the road surface ahead looks black and shiny.
o Black ice often occurs on shaded areas of the road, bridges and overpasses; long after the sun has come out.
Company News
We want to welcome our new J & S Transport Team Members while saying good bye to another. Robert D'Ambra (Bobby D) has decided to hang up the hoses for good and join the retired ranks. We want to thank Bobby D for his years of service with J & S Transport. Bobby will be missed! Please join the company in welcoming Fernando Rozo, Will Alvarado, Mark Herra and Jay Alper as our newest team members. All have extensive experience in the petroleum transportation industry. We look forward to having these professional drivers being part of our Team!
John Hamel has been actively involved with MA Motor Transport Association's initiatives to address the City of Boston's Hazardous Material Routes with the State Legislature. One of the initiatives was to have the State Legislature approve a Transportation Bond Bill which included a regional hazardous materials study addressing the validity of Boston's Hazmat Route. Through John's hard work studying Federal, State and Boston Regulations; lobbying with State Senators and Representatives; countless meetings with MMTA; the Transportation Bond Bill was passed by the State Legislature and signed into law by Governor Patrick. This newly signed law mandates a budgetary line item for $300,000 for MassDOT to retain an independent, third party, nationally recognized consultant in hazmat transportation routing risk analysis. This consultant is to conduct a regional hazardous transportation routing risk analysis which: (i) addresses the safe and efficient transportation of hazardous materials through and around the greater metropolitan Boston area; (ii) addresses the public safety capabilities, environmental considerations and infrastructure capacities; and (iii) makes recommendations of hazardous materials while safeguarding impacted communities.
I believe we can all give John Hamel a pat on the back for a job well done with a resounding OOH-RAH!
Healthy Choices
I believe we can agree that Safety Steve, in addition to a couple of fellow employees hold the title for being the oldest members of J & S Transport. We old timers can attest to the aches and pains of shoveling snow. Here are a few tidbits of advice when you decide to tackle snow drifts:
• Individuals over the age of 40, or those relatively inactive, should be especially careful
• If you have a history of heart trouble, do not shovel without your doctor's permission
• Do not shovel after eating or while smoking
• Take it slow! Shoveling, like lifting weights, can raise your heart rate and blood pressure dramatically; so pace yourself. Be sure to stretch and warm up your muscles before taking on the task.
• Shovel only fresh snow. Freshly fallen, powdery snow is easier to shovel than the wet, packed down variety.
• Push the snow as you shovel. It's easier on your back than lifting the snow out of the way
• Don't pick up too much at once. Use a small shovel or only one fourth or one half of a larger one
• Lift with your legs bent, not your back. Keep your back straight. By bending and "sitting" into the movement, you'll keep your spine upright and less stressed. Your shoulders, torso and thighs can do the work for you
• Do not work to the point of exhaustion. If you run out of breath, take a break. If you feel tightness in your chest, stop immediately
• Dress warmly. Remember that your extremities, nose, ears, hands and feet need extra attention during winter's cold. Wear a turtleneck sweater, cap, scarf, face protection, mittens, wool socks and waterproof boots.
After shoveling all that snow, here is a healthy recipe for you to warm your bones: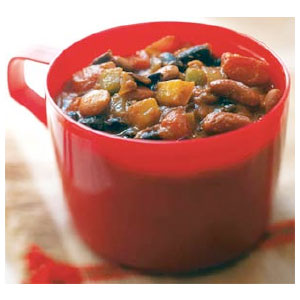 Chunky Vegetarian Chili
Nutritional Information
Amount per serving
• Calories: 257
• Calories from fat: 9%
• Fat: 2.7g
• Saturated fat: 0.3g
• Monounsaturated fat: 0.5g
• Polyunsaturated fat: 1.2g
• Protein: 12.8g
• Carbohydrate: 48.8g
• Fiber: 14.2g
• Cholesterol: 0.0mg
• Iron: 4.5mg
• Sodium: 876mg
• Calcium: 150mg
Ingredients
• 1 tablespoon vegetable oil
• 2 cups chopped onion
• 1/2 cup chopped yellow bell pepper
• 1/2 cup chopped green bell pepper
• 2 garlic cloves, minced
• 1 tablespoon brown sugar
• 1 1/2 tablespoons chili powder
• 1 teaspoon ground cumin
• 1 teaspoon dried oregano
• 1/2 teaspoon salt
• 1/2 teaspoon black pepper
• 2 (16-ounce) cans stewed tomatoes, not drained
• 2 (15-ounce) cans black beans, rinsed and drained
• 1 (15-ounce) can kidney beans, rinsed and drained
• 1 (15-ounce) can pinto beans, rinsed and drained
Preparation
1. Heat the oil in a Dutch oven over medium-high heat. Add onion, bell peppers, and garlic; sauté 5 minutes or until tender. Add sugar and remaining ingredients, and bring to a boil. Reduce heat, and simmer 30 minutes.